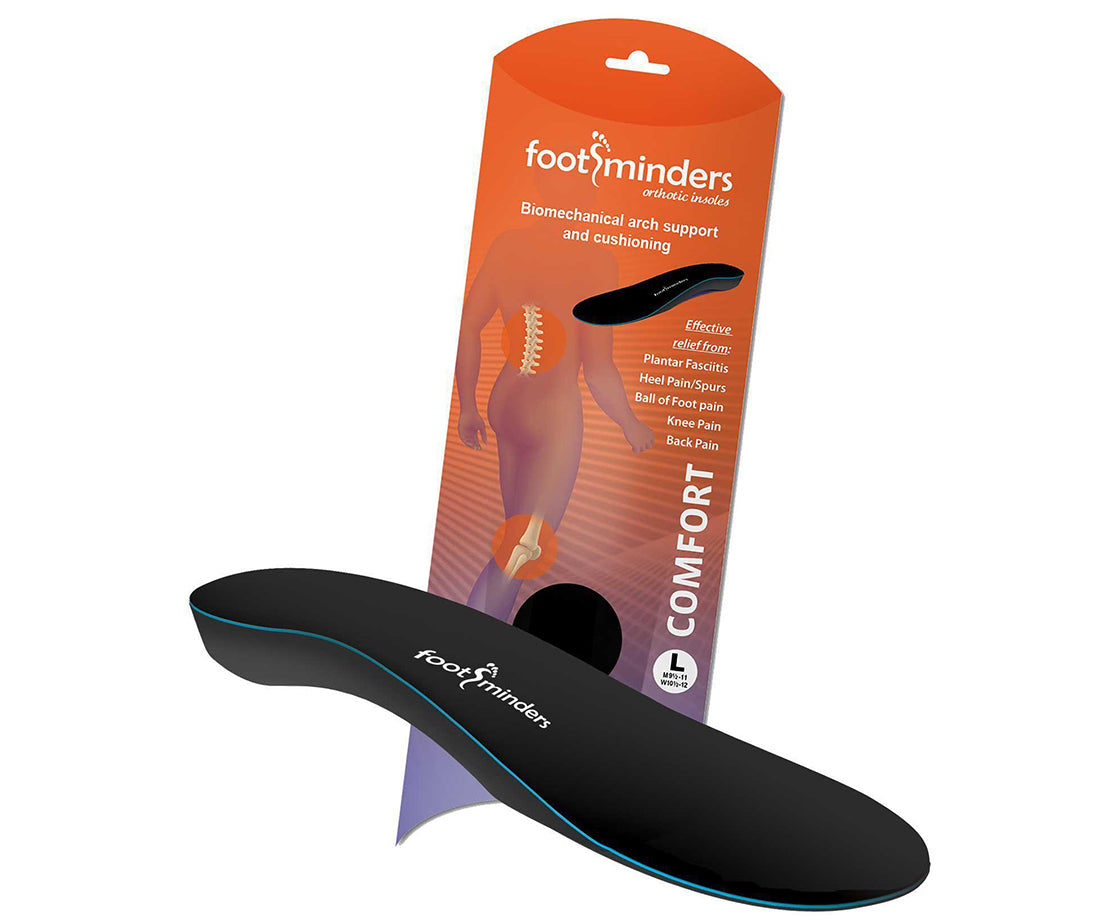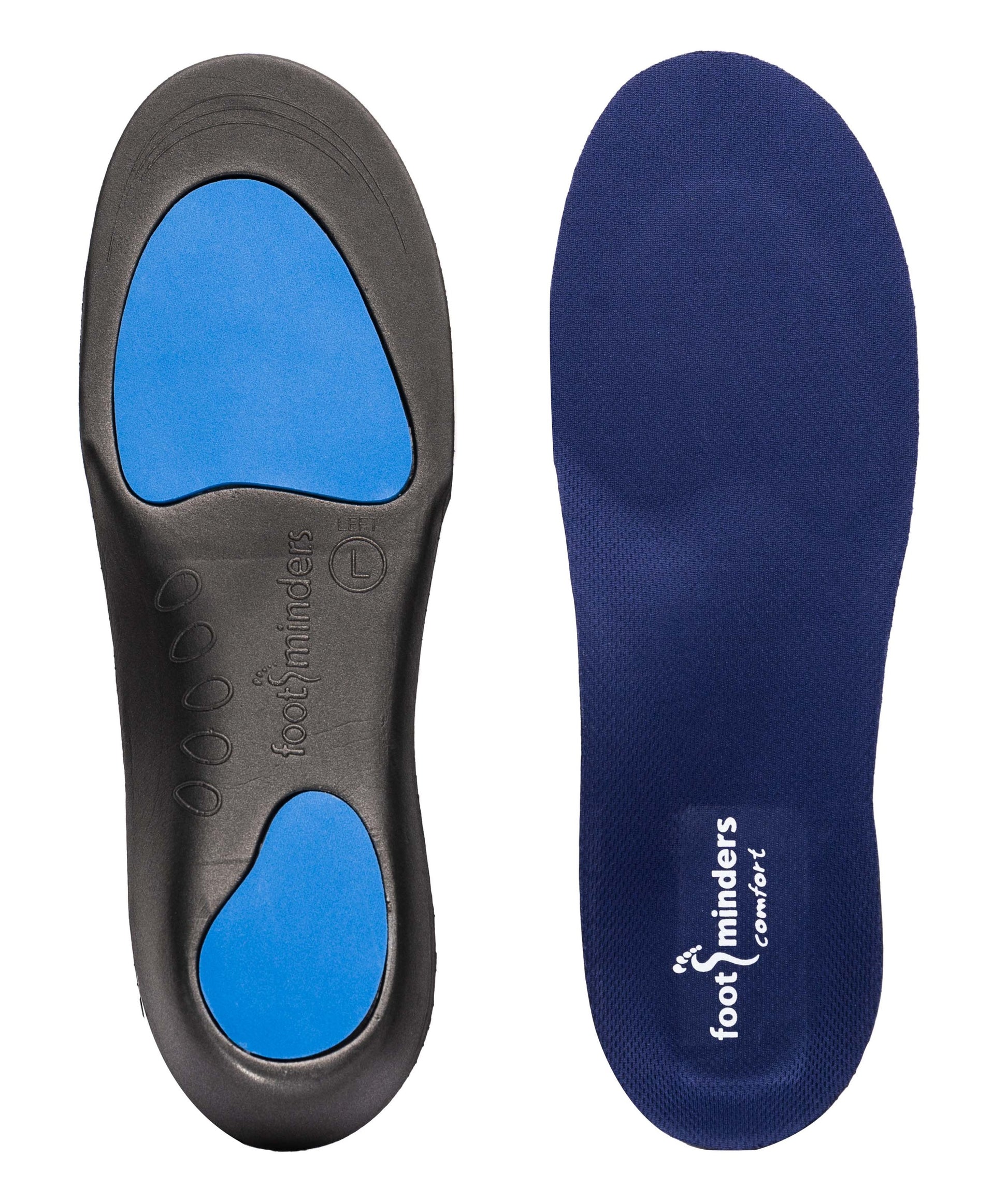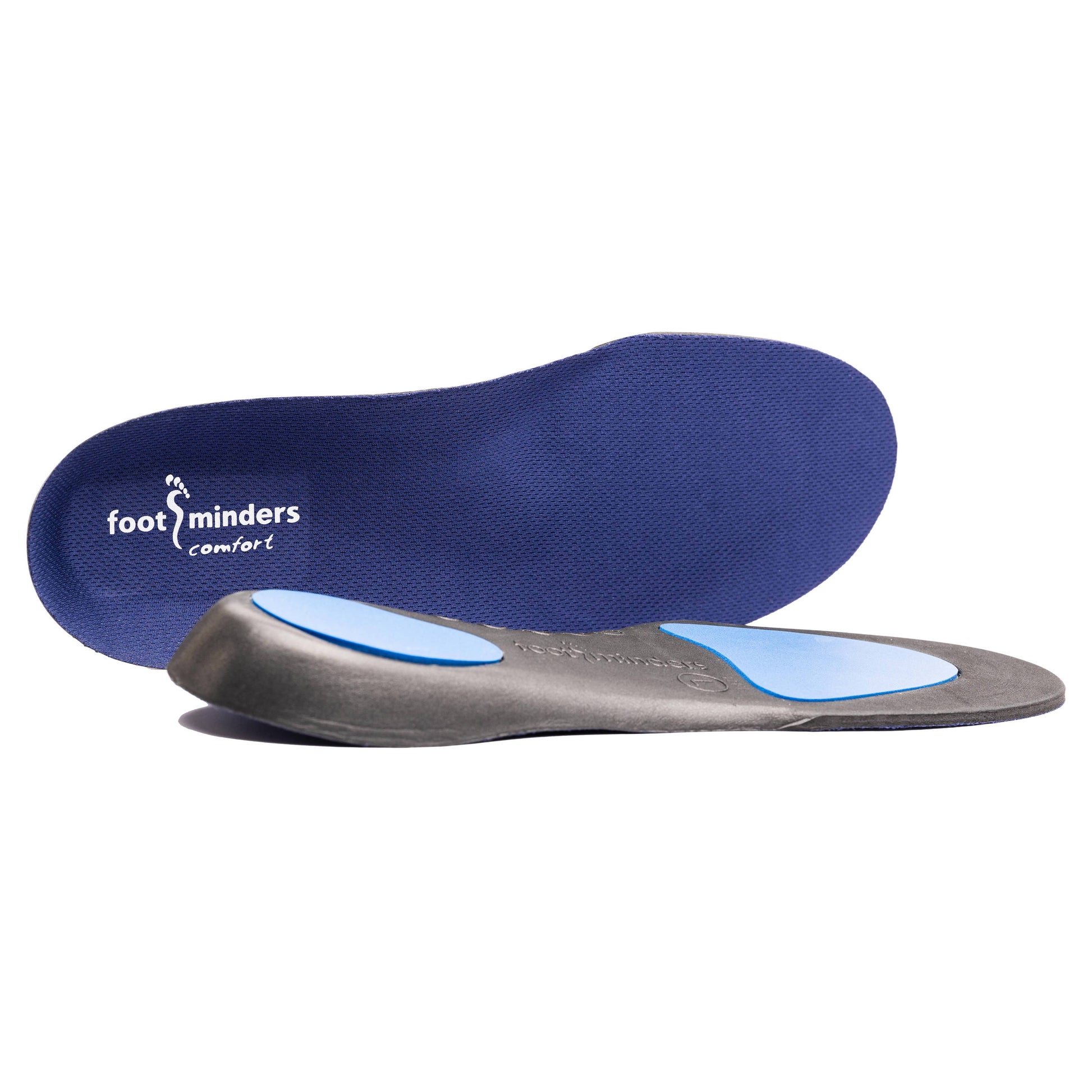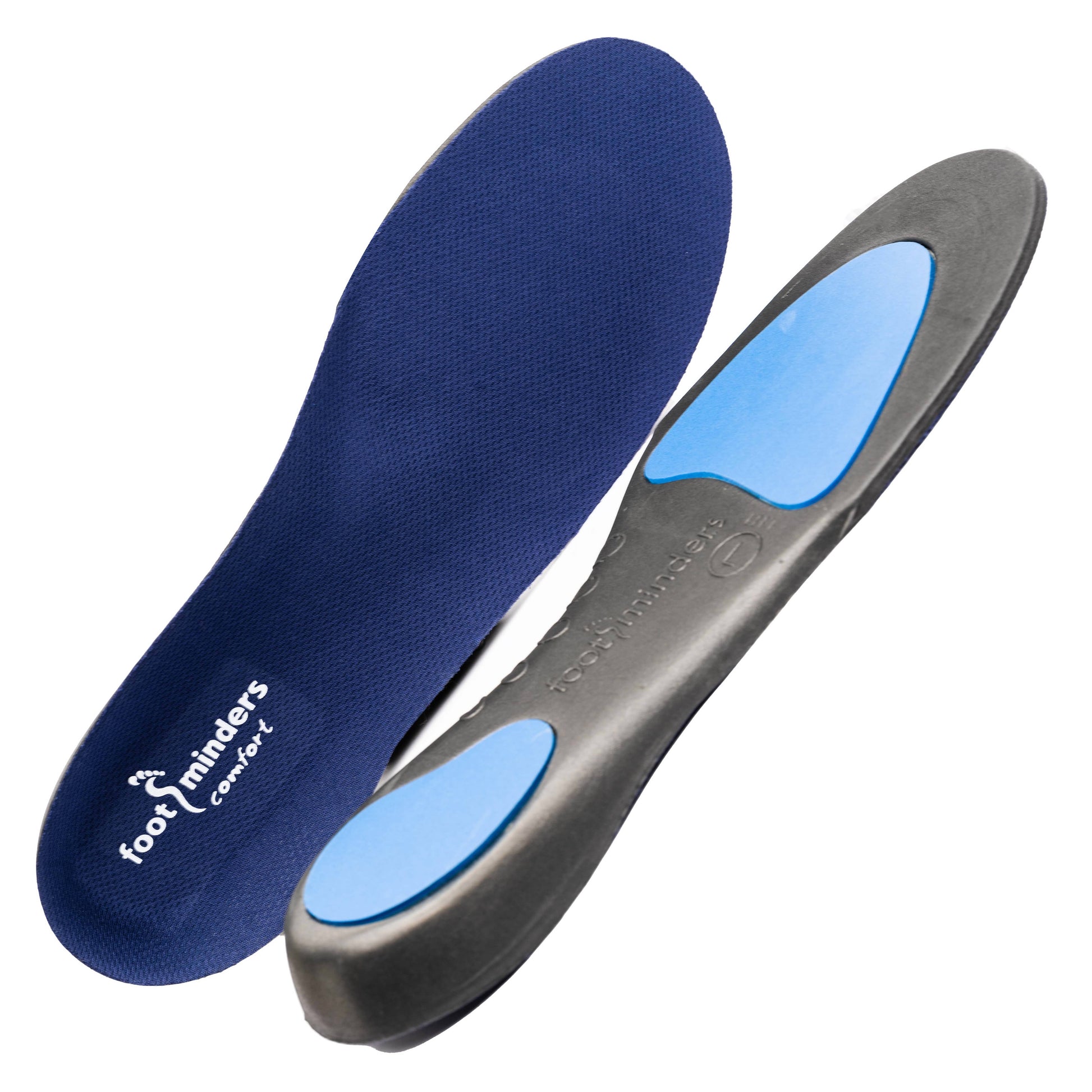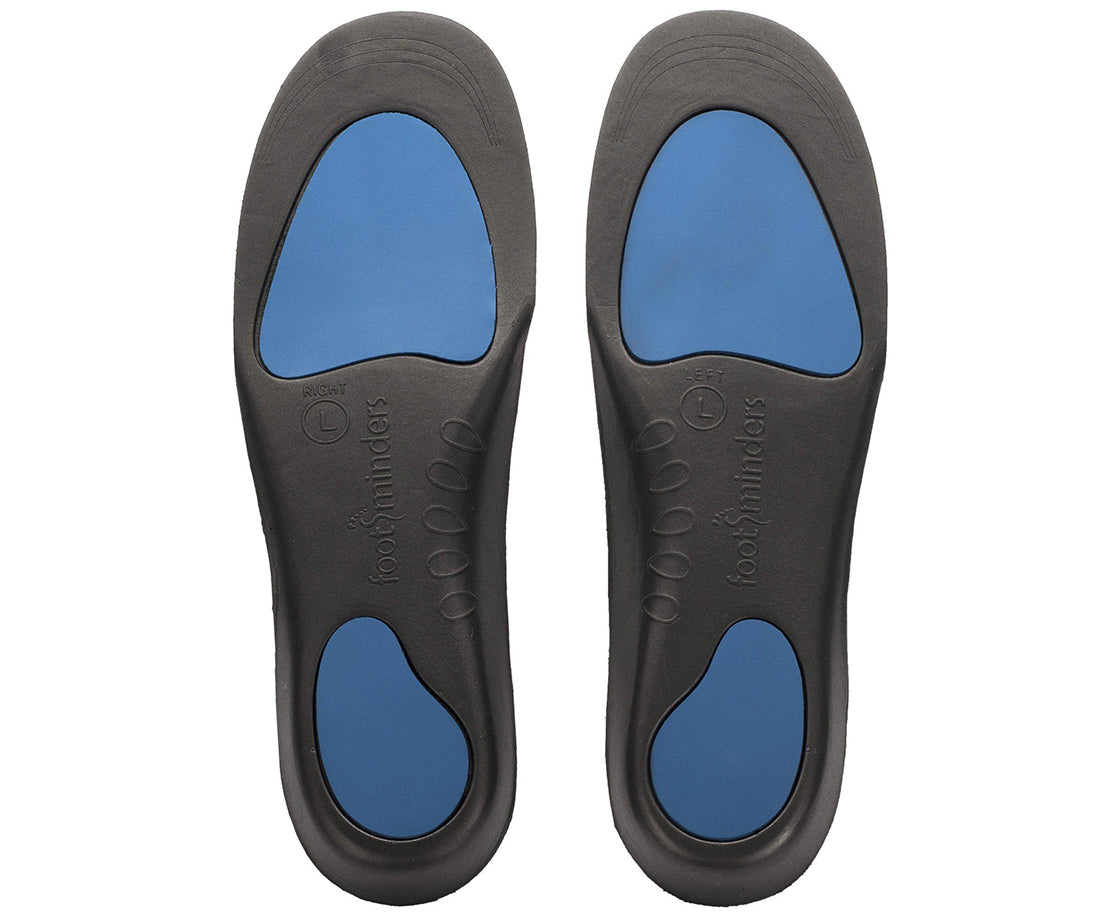 Footminders COMFORT - Orthotic arch support insoles for sports shoes and work boots
Sale price
$21.95
Regular price
$34.95
Product description
Features
Product reviews
Relieve Foot Pain Due to Flat Feet and Plantar Fasciitis with Footminders® Comfort Orthotic Arch Support Insoles
Designed by podiatrists for pain-relieving arch support and comfort 
For use in sports shoes and work boots

Recommended by podiatrists and chiropractors to relieve foot pain and heel pain due to flat feet and plantar fasciitis

Firm arch support and cushioning makes walking or standing for long periods of time much more comfortable

Designed for use in sports: golf, tennis, running, soccer, hiking etc.

Perfect for jobs that require walking or standing for long periods of time: nurses, teachers, retail salespeople, foodservice, hairdressers etc.

Large shock-absorbing heel and forefoot pads

Provides biomechanical alignment of your lower body by preventing overpronation (rolling inward at the ankles) 

Thousands of satisfied customers all over the world
Footminders Comfort is a biomechanical orthotic insole engineered to perfection for ultimate walking comfort with the following features:
Suitable for work boots, wide-fitting lace-up shoes, runners, sports, tennis and golf shoes
Dual Layer footbed technology: firm EVA + 2mm of soft, cushioning Durapontex
Large shock-absorbing Heel Pad
Extra-deep heel up for superior ankle stability
High biomechanically-shaped arch support to control over-pronation
Metatarsal support to help relieve and prevent ball of foot pain
Soft, velour-like anti-bacterial top fabric to keep feet dry and cool
Footminders CASUAL Orthotic Arch Support Insoles Size MEDIUM: Men 7½ - 9, Women 8½ -10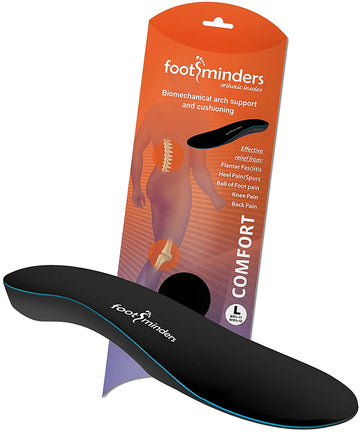 Relieve Foot Pain Due to Flat Feet and Plantar Fasciitis with Footminders CASUAL Orthotic Arch Support Insoles
Designed by podiatrists for pain-relieving arch support and comfort
For use in men's and women's low-heeled dress shoes without laces
Ideal for people who walk or stand for long periods of time
Recommended by podiatrists and chiropractors to relieve foot pain and plantar fasciitis due to flat feet and low arches
Especially designed to provide firm arch support and cushioning to relieve foot pain and heel pain
Provides biomechanical alignment of your lower body by preventing overpronation (rolling inward at the ankles)
Overpronation caused by flat feet may result in lower-body problems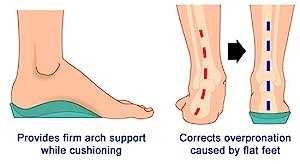 What is overpronation, and how does it affect the lower body functions?
Overpronation describes the rolling inward of our ankles as we walk, often caused by flat feet or low foot arches. This imbalance can result in conditions such as plantar fasciitis, an irritation of the plantar fascia that causes a sharp pain at the front of the heel bone, especially when getting out of bed.
Plantar fasciitis can cause severe pain around the foot arches and heels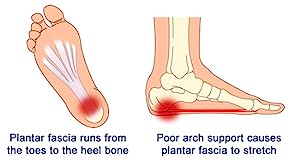 What is Plantar Fasciitis, and what are the symptoms?
Plantar Fasciitis consists of a sharp stabbing pain at the bottom or front of the heel bone. In most cases, heel pain is more severe following periods of inactivity when getting up and then subsides, turning into a dull ache.

Plantar Fasciitis is caused by abnormal pronation of the foot. As a result of overpronation, with every step the Plantar Fascia (band of tissue under the foot) is being stretched, resulting in inflammation, irritation and pain at the attachment of the fascia into the heel bone. In some cases the pain is felt under the foot, in the arch.

Footminders COMFORT orthotics prevent overpronation by providing firm but comfortable support for the foot arches, preventing the ankles from rolling inward.
Frequently Asked Questions about Footminders orthotics
Q. What are Footminders orthotics made of? Are they hard or soft?
Footminders orthotic technology enables our products to be firm enough to provide needed arch support, but pliable enough to provide cushioning, and to mold to your feet after a few days of wear, providing maximum walking comfort. They are made of a medium-density material called E.V.A. The major advantage of E.V.A. is that it is supportive and 'giving' at the same time.

Q. How long will it take to get used to my new orthotics?
Because of the 'foot-friendly' materials used in Footminders and its anatomic shape (following the foot's natural curves), most of our customers find them comfortable immediately after inserting in them their shoes. Some people, however, need some time to get used to them, and for the orthotics to mold to you feet. If the orthotic feels strange or uncomfortable at first, we recommend you wear them only for one hour per day, and increase the wearing time by an extra half to one hour every day, until they feel completely comfortable.

Q. Is the price listed for a single Footminders orthotic insole, or a pair ?
All of our orthotic insole products are sold exclusively in pairs, the main reason being the answer to the question below.

Q. Only one of my feet hurts. Do I need to wear the Footminders orthotics in BOTH shoes?
Most people experience pain in only their left or right foot (or heel or knee), not in both. However, you will still need to wear the orthotics in BOTH shoes, because wearing the orthotic in only one shoe will raise one side slightly and may put your body out of balance, causing your hips to be out of aligment. So please always wear the orthotic insoles in BOTH shoes.

Q. What is the difference between Footminders orthotics and regular insoles/footbeds?
There's a big difference between regular insoles/footbeds and orthotics! Regular footbeds are mainly designed to provide a cushioning effect and shock absorption. They may feel comfortable at first, however they do not address any biomechanical problems i.e. they do not correct overpronation. Orthotics are a functional device, designed to correct and optimize our foot function. Some footbeds also feature an arch support, but often the support is too weak to have any effect or benefit, especially if the footbeds are made of very soft materials.

How do orthotics exactly work? First of all, orthotics do a lot more than supporting the arches. Orthotics re-align the feet and ankles and restore 'faulty' foot function. In addition, orthotics provide an even weight distribution, taking pressure off sore spots (e.g. the heels, the ball of the foot, and corns in between toes and bunions). They also provide some degree of shock absorption, but this is not their main purpose. The main purpose of an orthotic insole is to improve foot function and in many cases this will reduce foot pain and prevent future problems and injury.
Q. Can I put Footminders insoles in the washing machine or dryer?
No, please don't! The easiest way to clean Footminders orthotics is to simply wipe them with a warm soapy cloth. Please, do not soak them or put them in a dryer.