Orthotics Study Found Off-the-Shelf Insoles More Effective Than Custom-Made
A new study conducted at fifteen orthopedic foot centers found prefabricated orthotic insoles to be more effective than the more expensive  custom-made insoles sold at many foot care specialty stores.  Organized by the San Francisco Orthopaedic Foot and Ankle Center, Department of Orthopaedics, University of California, the report named "Comparison of custom and prefabricated orthoses in the initial treatment of proximal plantar fasciitis" details the results of tests on 236 patients (160 women and 76 men) of ages 16 or older, most with plantar fasciitis symptoms for a period of six months or less.
The study randomized patients into five different treatment groups who performed Achilles tendon- and plantar fasciitis exercises in a similar manner.One group was treated with stretching only, while the other four stretched and used one of four different shoe inserts, including a silicone heel pad, a felt pad, a rubber heel cup, or a custom-made polypropylene orthotic device.
The results indicated the percentages of patients from each group who experienced improvements in their plantar fasciitis condition as follows: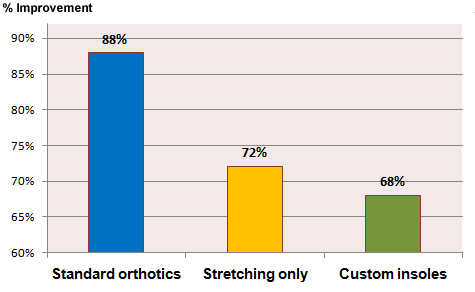 At the end of the study, the scientists issued the statement: "We conclude that, when used in conjunction with a stretching program, a prefabricated shoe insert is more likely to produce improvement in symptoms as part of the initial treatment of proximal plantar fasciitis than a custom polypropylene orthotic device."
Considering the abysmal difference between average prices of custom orthotics vs. off-the-shelf shoe inserts,  it makes sense for patients to opt for the latter for treating plantar fasciitis symptoms, at least initially.  Taking these results into consideration could result in massive health care savings for a large segment of the population.
The post Orthotics Study Found Off-the-Shelf Insoles More Effective Than Custom-Made appeared first on .
Leave a comment
Comments will be approved before showing up.
---
Also in Footminders Orthotics Blog
Your foot, knee, back, ankle, and other pains could be treated by a simple orthotic. Read on and see how a foot insert can help.
The post Orthotics Treat Pain From the Leg Up appeared first on .
In today's age, we have seen more and more knee-related pain than before. Why is that? Physicians theorize that today's modern lifestyle of staying indoors, a sedentary lifestyle, and lack of exercise prevents the knees from remaining strong. The possible weight gain due to this issue can help contribute to the stress on the knees. […]
The post Knee Ailments Increase Due to Modern Lifestyle appeared first on .
Life can be difficult if you are suffering from joint pain. Moving can hurt, but it turns out that not moving can hurt things more. Doctors recommend that sufferers of joint pain should do gentle, targeting workouts in order to strengthen the joint and the muscles around it that can support it. For a full […]
The post Want to Decrease Joint Pain? Exercise! appeared first on .